Vostok-NL WiFi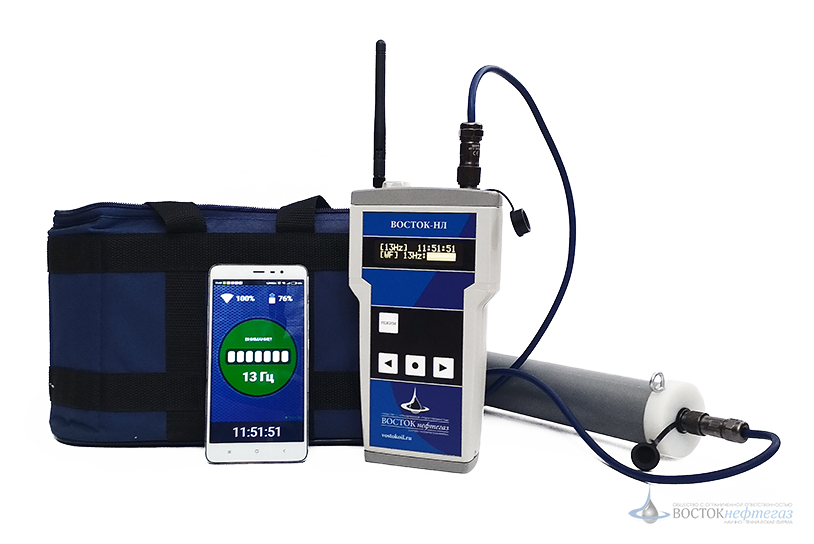 The VOSTOK-NL low-frequency locator is designed to receive electromagnetic signals generated by the VOSTOK-T series transmitters, which make it possible to determine the location of treatment facilities.
The principle of operation of the locators is based on the reception and decoding of electromagnetic waves of infra-low frequency 13 and 22 Hz in the form of pulses - "signal / pause" or in continuous mode from transmitters (transmitters) installed on cleaning devices.
Allows you to control the movement and locate a stopped cleaning device in the pipeline with an accuracy of ± 0.5 m.
VOSTOK-NL is compatible with all modifications of transmitters of the VOSTOK-T series, transmitters for scrapers produced by TRANSNEFT-DIASKAN JSC, low-frequency transmitters manufactured by APRODIT LLC, transmitters manufactured by ROSEN Group and with transmitters from other manufacturers that generate signals with a frequency of 13 and 22 Hz.
The locator model with Wi-Fi module allows you to remotely search for scrapers with a transmitter. This is especially convenient in bad weather (winter time), when you can install the receiver on the pipeline, and control the passage of the cleaning device from the car.
Using an external gadget (smartphone or tablet running the Android operating system) with the installed software in the locator, you can set the time and operating mode (13 or 22 Hz) from a distance. The screen of the gadget displays the battery level and the signal strength of the Wi-Fi network. The communication range of the locator with the gadget in line-of-sight conditions is 700 meters. The moment the signal from the low-frequency transmitter is detected is recorded on the gadget with a color and sound signal synchronously with the locator.
At the request of the customer, the locator can be equipped with a smartphone based on the Android operating system.
Application:

Download (Ver. 1.1.2)
Videos:
Vostok NL (Wi-Fi) - Demo

Vostok NL (Wi-Fi) - Shell passing (50 meters)

Vostok NL (Wi-Fi) - Shell passing
Vostok NL (Wi-Fi) - Maximal distance - 720 meters

Vostok NL (Wi-Fi) - New firmware.
Feature name
Value
Distance in the air at which the antenna of the low-frequency locator (receiver) steadily receives the transmitter signal (when the locator and transmitter antennas are aligned and there is no interference), m
up to 25
Duration of work at ambient temperature: -20 … + 40 ° С, h
70
Power supply, pcs
4, type "C"
Operating temperature range
-20 … + 60 ° С
Operating temperature range (when using lithium batteries)
-40 … + 60 ° С
Net weight with antenna, no more, kg
5
Dimensions:
& ndash; low frequency locator (width x height x length)
& ndash; antenna (diameter x length)

75x220x200 mm
50x310 mm
Accuracy of locating the cleaning device
± 0.5 m
The ability to receive the signal from the transmitter in the position `` aerial in the air '' (when the operator moves along the track)
Yes
Displaying transmitter signal reception on:

- LED display;

- on the screen of the gadget via Wi-Fi
Locator operation control (setting operation mode, viewing memory data, etc.)

- locator keyboard;

- via a gadget via Wi-Fi

Communication range over

Wi

-

Fi

, m

up to 700
VostokNeftegaz
20+

years

30+

patents

500+

projects are in work